By Abigail Isassi
For the last year, due to the pandemic, people have picked up new hobbies and some others have actually shown interest in different topics that without extra time to kill they probably wouldn't have discovered. I'm part of the club.
During this difficult time I have spent most of my leisure time online, looking for new enduring and creative activities to keep myself away from boredom. In this journey of research, I came across a YouTube Channel called "Never too small" and the sake of it is to show the work of skilled architects whose purpose is to build sustainable and practical homes in quite reduced spaces. Some of these flats are built in only 24 sqm, some others in areas of 27, 32 or 54 sqm. All of the projects are impressive but there's one that definitely stands out the most: The Experimental Micro Living Opod, a 15 sqm flat!
The first time I saw this video I was immediately astonished and curious so I clicked on it and discovered that the creator of such an innovative project is the one and only James Law, a global award-winning architect (CNBC International Architecture Award de 2009 for: Technosphere, The Pad and Cybertecture Egg from Hong-kong who created "Cybertecture" where he combines technology and architecture to create the most sustainable way of living in cities that are constantly growing. James Law's projects are out of the box, the 15sqm flat that was mentioned at the beginning consists of an experimental low cost, micro-living housing unit constructed out of a 2.5 meters diameter concrete water pipe. Each of these tubs contains a complete bathroom, a little kitchen station, a sofa-bed and of course, enough space to stand up. Although the innovation is the reduced space, there's a reason why they are built in tubes. This round shape creates fast housing for people because when the land is no longer available they can just move the houses to another land and make them available for other people. Can you imagine? They literally just grab a house and place it somewhere else.
On the other hand, the Cybertecture egg is also a crazy project whose goal is to create a self-sustainable egg-shaped building that provides a " dynamic user interface in the physical world complimenting it with a comfortable access to the virtual spaces."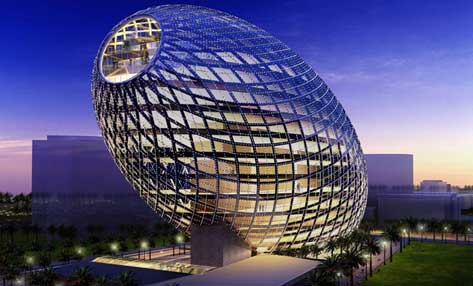 Like the Nobel Prize economist Roberts Lucas stated: "What can people be paying Manhattan or downtown Chicago rents for, if not for being near other people?" This just proves that Urban Growth will increase throughout the next decades and who knows, maybe we'll all live in 15sqm flats and work in egg-shaped buildings.
Check out "Never Too Small" YouTube Channel: https://www.youtube.com/channel/UC_zQ777U6YTyatP3P1wi3xw
Check out "OPod Tube House": https://www.architonic.com/it/project/james-law-cybertecture-opod-tube-house/20045089
Check out: "The Cybertecture Egg in India":https://worldarchitecture.org/article-links/egzgf/the-cybertecture-egg-in-india-by-james-law.html